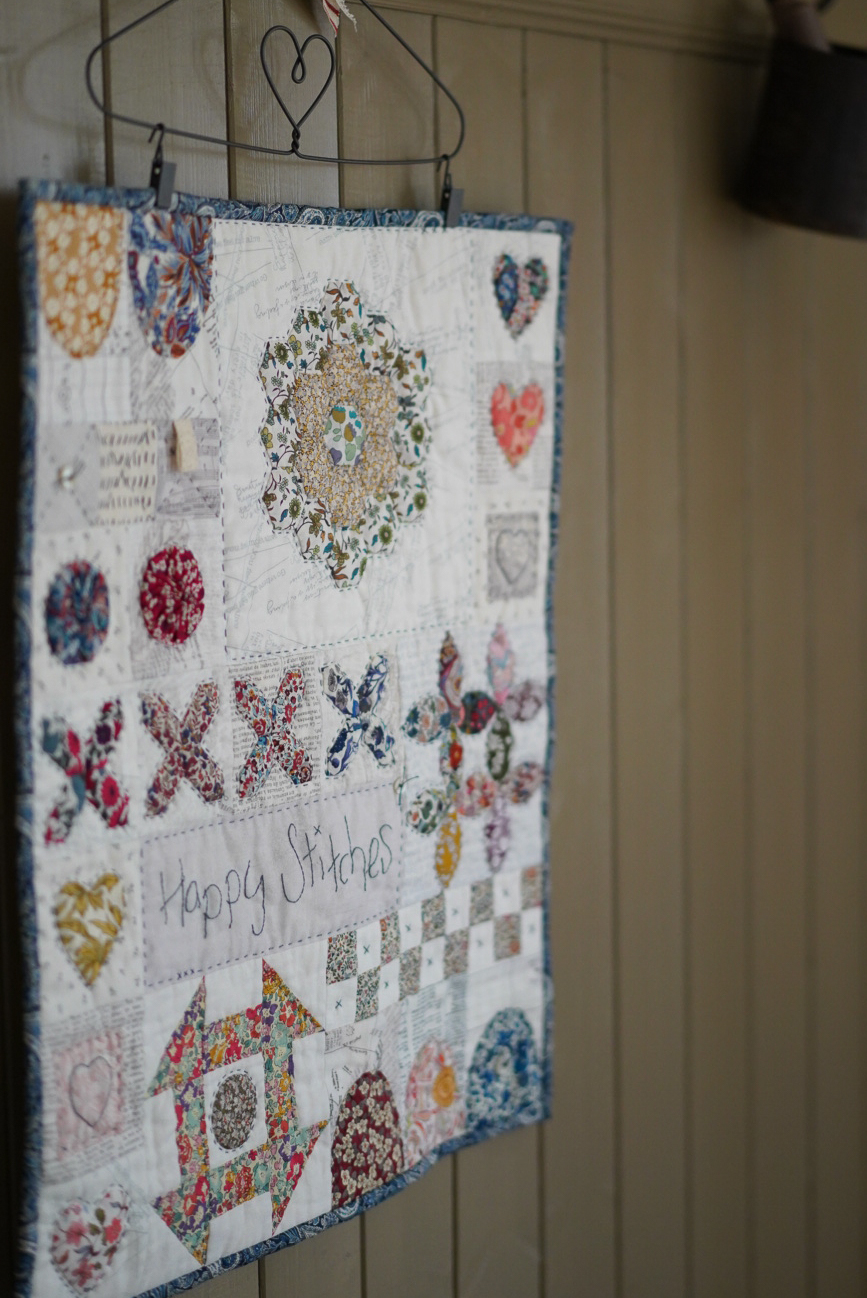 THE HAPPY STITCHES SAMPLER QUILT
PDF Quilt Pattern
A pretty wall-hanging size quilt, the Happy Stitches sampler combines English paper piecing, applique, Suffolk puffs, machine piecing, hand embroidery and hand quilting, making it an excellent choice to 'sample' various different techniques and lots of happy stitches!
This quilt is the perfect size quilt for using up those precious little snippets of fabrics you've been saving for just the right project!



Finished Dimensions
18 ½" x 21 ½"
The A4 PDF Pattern includes:
An Introduction document, where Sarah shares some 'little happy ' tips for her favourite techniques.
Instructions for each of the hand embroidery stitches used.
Step by step instructions for how to complete each block and how to assemble the quilt.
Full size templates for the embroideries and appliques. These are available for you to print in either A4 or US Paper format.
Fabric Requirements
Sarah loves to make scrappy quilts. An indication has been given below for the larger pieces required for the Quilt Top, Backing fabric, Binding fabric and Wadding. For the smaller block backgrounds and appliques, enjoy searching through your treasured fabric stash, the precious ones that you hang on to because you love them so much and select your favourites pieces to use.


Long Quarter for Binding
23" x 26" piece of Backing fabric
21" x 24" Wadding /Batting
You will also need

Cotton Threads to match for EPP, Applique & Machine Stitches
Cotton Threads for Hand Quilting
Cotton Threads for the Embroidery
The following pre-cut EPP papers: 
(16) 1" Elongated Hexagon papers
Your choice of EPP shapes for the 9" square block. On one of my quilts I used a Chrysanthemum Plate (Mine had 10 Blades and measured 6 ½" in diameter). On my second quilt I made a rosette using (19) ¾" hexagons.
(3) Buttons
3" piece of ribbon or trim 
Additional Notions and Tools Required
Rotary Cutter & Mat, Quilting Rulers, Needles for English Paper Piecing, Applique and Hand Quilting, Applique Pins, Sewing Machine, Scissors, plus any of your favourite notions that I haven't included for the techniques used!
Need a little extra help with some of the techniques?


Enrol for our FREE Sarah's Favourite Embroidery Stitches Course, where you will find 'little happy' video tutorials for Sarah's 13 favourite stitches. Enjoy professionally filmed close up and slow motion footage with Sarah demonstrating and talking you through how to work each stitch.
If you need a little help with the quilting techniques, enrol for our FREE Beginners Guide to Patchwork and Quilting Course, where Sarah again shares more 'little happy' video tutorials for her most used quilting techniques. In addition, this free course also includes PDF Documents of Sarah's most popular 'little happy' quilting tutorials taken from her Blog 'a little happy place', which has been viewed over 1.1 million times. Don't worry, there's no 'right or wrong' way, it's about finding a method that you enjoy!
Finally, if you have any questions at any time, please do get in touch and we will do our very best to help!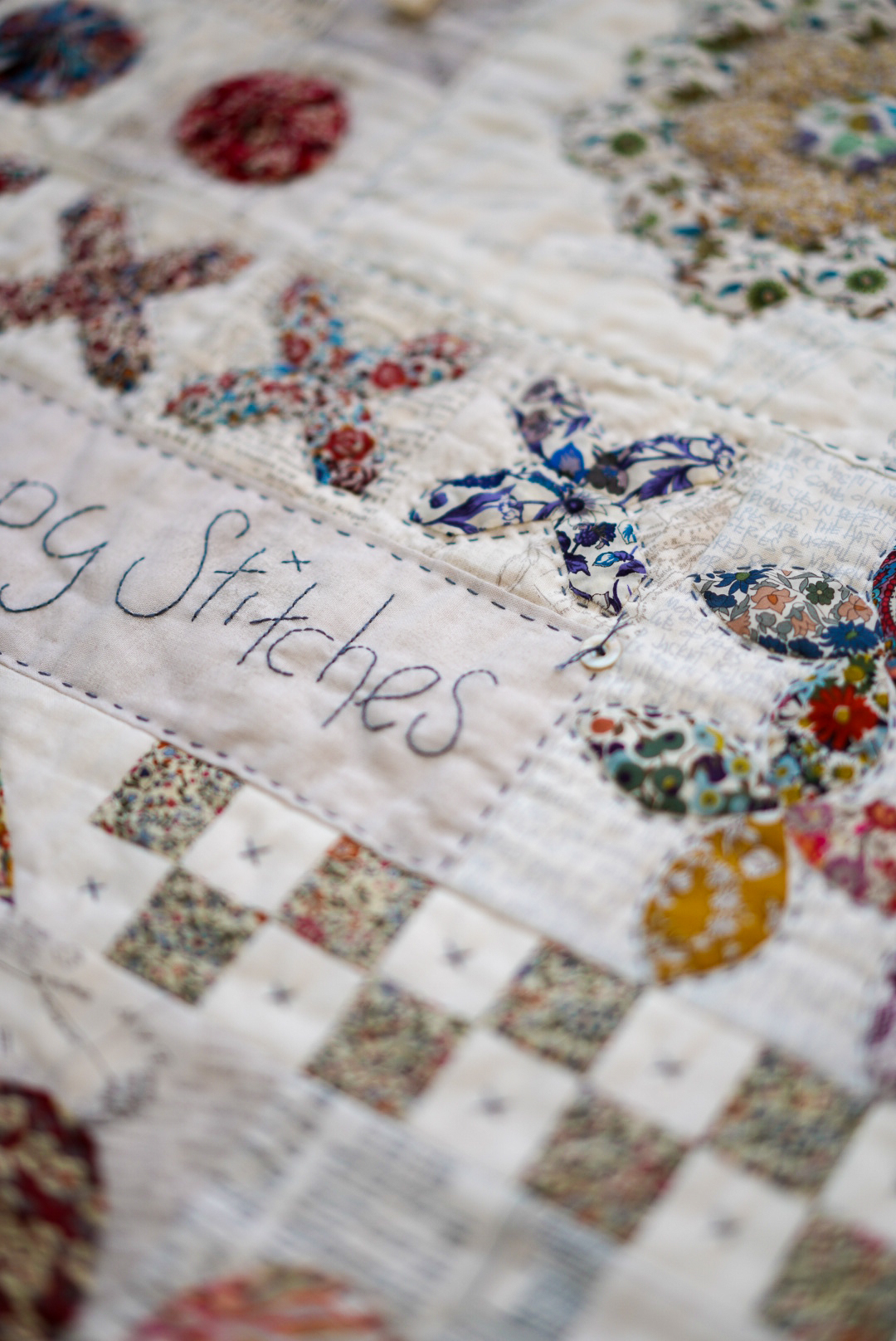 Frequently Asked Questions
When can I access the course content?
All the PDF documents become available as soon as you enrol for the course.

How long do I have access to the course content?
After enrolling, you have unlimited access to this course for as long as you like. There is no deadline you can enjoy your happy stitches at your own pace!

I'm a complete beginner, will I be able to make this?
The pattern itself, is written assuming that you have a basic understanding of sewing, quilting and patchwork and know for example, how to use your sewing machine.
That being said, we include lots of step by step instructions and diagrams.
To help you along the way, don't forget, you can also join our FREE Beginners Guide to Patchwork and Quilting Course and also our FREE Sarah's Favourite Embroidery Stitches Course. In both courses you will find professionally filmed 'little happy' video tutorials with close up and slow motion footage, with Sarah talking you through her favourite techniques and stitches.
Plus, if you have any questions, please feel free to contact us directly ([email protected]) and we will do all that we can to help!
Finally, you can also find lots of FREE patterns and projects on our Blog 'A Little Happy Place' for you to try first.

I do not enjoy Needle Turn Applique does that mean I can not make this quilt?
Absolutely not!!! We firmly believe that you should use quilting techniques that you enjoy. So, if you prefer the Interfacing Method of Applique or Raw Edge Applique then that is absolutely fine. To help, or if you are undecided, you can find video tutorials for all the three types of appliques in our FREE Beginners Guide to Patchwork and Quilting Course. Plus, there are various FREE applique projects on our blog for you to experiment with and find which technique is your favourite.
I prefer to machine quilt rather than hand quilt, does that matter?
No definitely not....machine quilt as desired if you prefer!

I like to hand piece rather than use a sewing machine, is that ok?
Of course, however, please note that the instructions are written and assume that you are machine piecing and using a 1/4" foot.

Once I have purchased this pattern from you, can I share it with my family members, my friends or my quilt group?
The answer is no, the pattern purchased is for your personal use only. The reason for this is simple, we are a family business and the income that we make from designing and selling our patterns and kits, keeps a roof over our heads and supports our family. Therefore, redistribution, copying or reselling of this pattern is strictly prohibited.
However, it would make our day if you would recommend us to your friends and family so that they can also enjoy some happy stitches!


Can I use this pattern to produce items for my business?
Thank you for asking, however this pattern is for you to be enjoyed personally or for you to make as gifts for others. Please do not reproduce the pattern in anyway or sell items made from it. Business use of any kind is not permitted.
What if I am unhappy with my purchase?
Lots of love, care and attention, is put into everything that we do and we are sure that you will be completely happy with your purchase. If sadly this is not the case, all we ask is that you NOTIFY us of your reasons within 14 days of purchase. We will then always try our very best to resolve any issues or concerns that you may have. If after this, you still remain unhappy, then we will happily give you a full refund. Just email: [email protected]